We're excited to announce BrightHire is now officially a part of Greenhouse's partner ecosystem and they've recognized us as an essential part of the ideal tech stack to improve diversity recruiting — in a new interviewing category all our own.
About the partnership:
BrightHire and Greenhouse are a perfect fit.
Both companies understand structure and consistency are essential for effective, equitable hiring.
Leveraging Greenhouse's robust APIs, we've built a seamless integration between the two platforms that unlocks the ability to scale effective, fair hiring practices.
The best part? Setup takes 20 minutes.
Highlights of our integration:
Structured interviews in real time:
Predefined questions and competencies from Interview Kits in Greenhouse are automatically displayed for every interviewer in real-time during interviews, helping your team realize the full potential of investments in carefully thought out interviews and panels.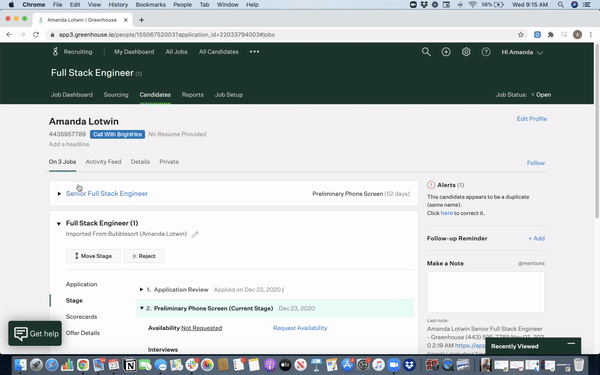 Faster and richer feedback:
Notes and interview highlights are auto-captured and posted back to Greenhouse, with a recap and a link to the Greenhouse Scorecard conveniently sent to your interviewer's inbox and available immediately. This makes it faster and easier for interviewers to submit concrete feedback, and reduces bias by replacing subjectivity with substance.
Better hiring decisions:
Every hiring decision is based on evidence from interviews, and for the first time the actual evidence is available to make the right decision – right from a candidate's profile in Greenhouse. Now recruiters can more effectively steer the process, and hiring managers can review highlights from all of a candidate's interviews to make faster, more confident hiring decisions.
Enhanced system of record:
With notes and interview highlights synced back to Greenhouse automatically, the system of record is now a more powerful source of truth, enabling recruiting teams to rediscover and re-engage talent for new opportunities – and never let a great candidate fall through the cracks.
DEI recognition:
BrightHire is a transformation in equitable hiring. We help teams tackle bias where it matters most: in every interview and hiring decision.
Our platform brings structure and consistency into interviews, replaces subjectivity with substance in hiring decisions, and creates new visibility into hiring practices to drive important change.
Lastly, our system automatically nudges interviewers to improve their interviewing skills and run consistent, balanced conversations.
In recognition for the unique impact BrightHire has on building an equitable hiring process, Greenhouse has listed us in their ideal tech stack for furthering DEI goals along with other great companies such as Textio, Jopwell, Charthop, and Pymetrics.
We're thankful to the Greenhouse team for the recognition and excited to continue our great partnership with them to transform how companies build talented and diverse teams.
……
BrightHire helps companies build talented, diverse teams, and ensures every candidate gets the hiring experience they deserve, by bringing rigor, evidence, and insight into the heart of the hiring process: interviews and hiring decisions. Wharton Professor and organizational psychologist Adam Grant has called BrightHire "the most compelling technology I've ever seen for making better hiring decisions." More about our methodology and product at brighthire.com, and in recent coverage in Quartz and Inc. magazine.